About
Us
We are a family medical practice who provides many services under one roof. We have been opened since 1975 and offer a range of services at our Medical Centre. We open 5 days a week and have male and female GP's, Registered Nurse, onsite Laverty Pathology available as well as Allied Health Professionals including Dietitian. We also have a Dental Clinic.
Where everything centres on your health
Due to rising practice costs, with no increase to Medicare rebates we will be introducing a new gap payment fee. From the 5st September 2022 there will be a gap payment for all patients.
Payment for the consultation will be required in full, Medicare will then reimburse you less the gap payment.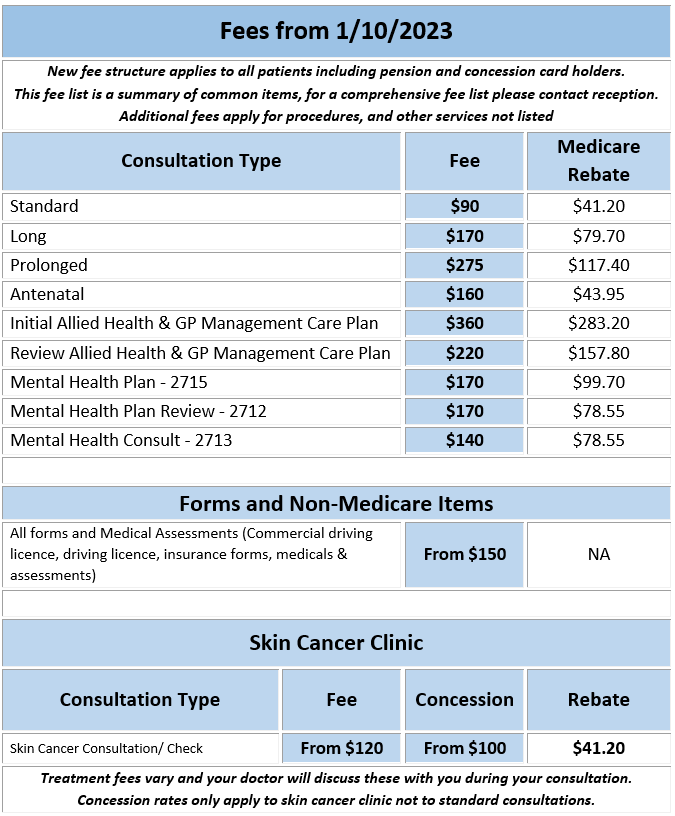 Laverty Pathology
Blood collection
ECG
Stool 
Urine sample
and others …
Psychologist
Enhanced Primary Care Plans
Family conflict
Relationship problems
Adoloscent problems
and others ….
Dietitian
Nutrition Therapy
Diabetes
Heart diseases
Liver problems
and others ….
BULK BILLING DENTAL
TREATMENT FOR ELIGIBLE
KIDS & TEENS (Aged 2-17yrs)
Under the 'Child Dental Benefits
Scheme'. Access benefits of up
to $1000 per child and free
gift bags!
Our Dental Centre Providers the
GP's &&nbsp&nbsp&nbsp&nbsp
Dentists
Dr M. Sharif
General Practitioner
Dr Sam Wise
General Practitioner
Dr Aase Pacey
General Practitioner